Thanks to the booming athleisure movement, leggings have become perfectly acceptable – and stylish – attire to see you through from day to night and to any event.
But, once upon a time, leggings simply served a practical purpose – to add a little more coverage to your look under dresses, tunics and more.
It's that perfect balance of comfort and style and it hit the runways last year as a trend we can expect to see more of. Here's the dos and don'ts of wearing leggings with a dress and how you can create that perfect look. 
The Runway Look
In the fall 2020 runway we saw high end designers embracing the leggings under dresses in a huge range of colors and prints. It's the perfect pairing of function and style.
After all, leggings keep your legs much warmer than a pair of tights and give you much greater mobility to get about your day. 
This resurfacing trend is something we all should be embracing. Here's how to create the look yourself when it comes to choosing leggings to wear with dresses. 
Do… 
1. Embrace the tunics
Choosing tunic dresses to wear with leggings is always a great place to start. Leggings are the perfect base for any outfit, and a tunic dress offers a great length to provide just that little bit more coverage.
There are so many styles to choose from to complete your look. Check out the preppy button tunic, the easy waffle tunic, the warm fleece tunic for winter, or even the hooded tunic.
You can easily draw attention to your leggings by choosing a fun print, like the FIERCEPULSE Black & Gold Leggings, with a plain tunic on top. It's fresh, fun and perfect all year long.
2. Avoid the 'out there' patterns
Here at FIERCEPULSE, we love embracing fun and really showing off your style, but it has to be done in the right way. If you want the leggings to be the feature of your outfit, then go for the tunic option above. Keep it plain and simple on top and embrace that splash of color underneath.
When it comes to longer dresses, it's better to let them be the feature of the outfit, and embrace something a little more subdued underneath. You can still have plenty of fun with it!
Take a look at our Bubblegum Pink Leggings, Black Kitty Leggings, Baby Blue Leggings, and many more designs that would look perfect paired with a cute dress for a day out.
If you're after some dresses with leggings ideas, then find your favorite dress and have a go at pairing it with one of the fun colors on our site. You will fall in love!
3. Choose tight-fitting leggings
You need to buy leggings that fit. Well. The last thing you want is the wrinkles, or sag lines from an ill-fitted pair of leggings. It will throw off the entire look. You also don't want to spend your entire day hiking up your dress to readjust your leggings underneath.
This also isn't a great look while you're out and about. Tight leggings look great and feel comfortable all day long. 
4. Stay above the knee
You can get away with most dresses with a pair of leggings underneath, but the best look comes with choosing dresses that sit above the knee. Think of a cute, puffy summer dress that really accentuates your leggings underneath.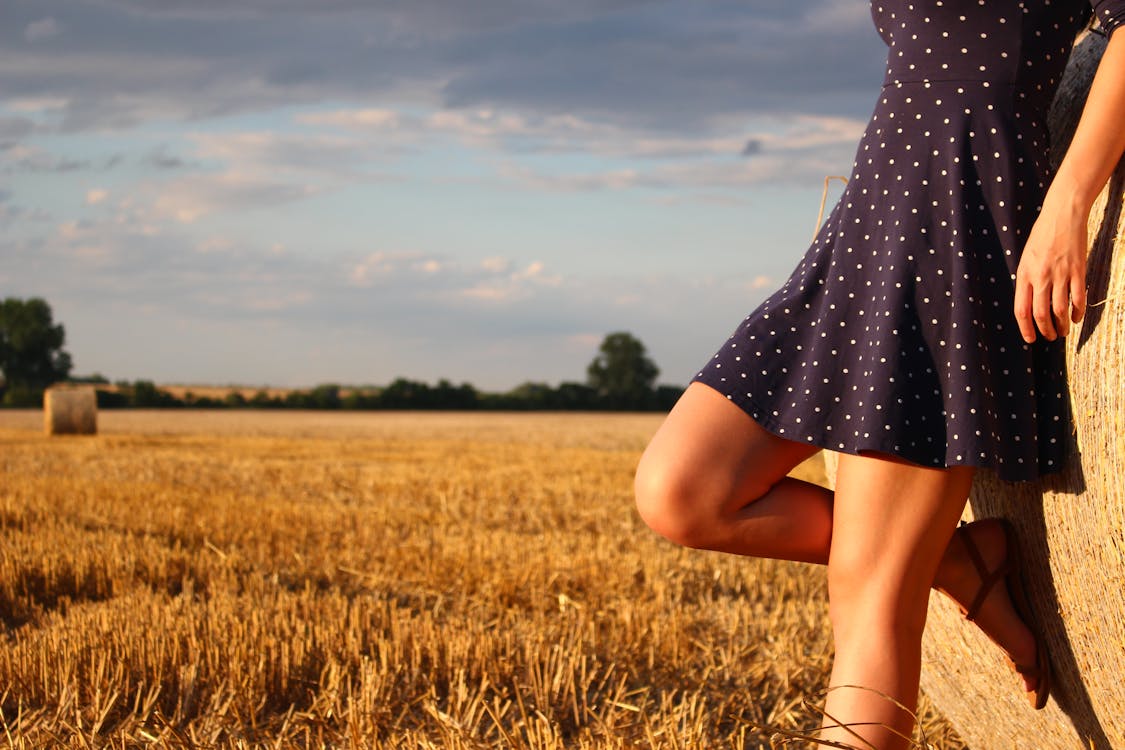 This has the added bonus of giving you the appearance of longer legs – which is just what every girl wants. Embrace it! Leggings for summer dresses are the perfect pair. Once the dress sneaks past your knee with leggings underneath, it makes those legs disappear. 
Don't… 
1. Overwear them
While we all love our leggings and would choose to live in them every day, you want to tuck them back into that drawer from time to time.
On a hot Summer's night, skip the leggings and bare your legs for a dressier evening look, such as a cocktail event. Knowing when to wear your leggings is just as important as letting go from time to time and leaving them behind. 
2. Choose clingy fabrics
Most fabrics work well with leggings, but you do want to avoid dresses that will cling to the leggings while you're wearing them. This completely changes the look and also won't be comfortable at all for you.
You'll find yourself spending half your day trying to free your dress from your leggings and it will end up much more trouble than it's worth. 
3. Always opt for black
Monochrome leggings are great and versatile, but they shouldn't always be your go to look. Don't limit yourself and your form of expression. Instead, go for colors that work well together.
The FIERCEPULSE Emerald Green Leggings would look perfect under a floral dress, adding that gorgeous Earthy tone to your look and giving it some depth.
While you don't want to clash on the patterns, you can still bring some color into your look. It's about pairing it with the right dress to enhance the entire look. 
4. Forget about your shoes
Shoes really can complete any look, so don't forget to choose yours carefully. Leggings lend themselves to so many different styles, so it's about choosing what works with your outfit.
In Summer, you can go for a pair of ballet flats without anything else, leaving a bit of leg and foot bare. In Winter, boots with socks will give you some much-needed warmth while also looking on-trend with your outfit. If you're heading out for the night, opt for a pair of heels to complete that outfit. 
How to wear leggings with dresses
It's easier than you think! It's just about paying attention to your look and taking in the list of dos and don'ts we have shared with you. Leggings with dresses is a fun trend that is here to stay.
Start by going through the dresses in your wardrobe (tip: the above the knee ones), and scroll through our site to find some great leggings to pair. You'll be able to create new looks in seconds. Have fun with it!