The holiday season will be here before you know it. In a few months, we will be eating Thanksgiving turkeys and looking forward to Christmas and Hanukkah and all the celebrating we will be doing.  
Hanukkah is a holiday that often gets eclipsed by Christmas but it is quite meaningful to many people of the Jewish faith. Read on to find out what it's about, what makes it so special and how you can make this Hanukkah the best one yet.
THE HISTORY OF HANUKKAH
The story of Hanukkah dates back to 200 BC. It was then that Jews were living in Judea (now Israel) under the rule of Antiochus III, the King of Syria.
Antiochus was okay with Jews practicing their religion in the country, but his son, Antiochus IV was not as understanding. He attacked the city of Jerusalem and destroyed the Jew's Second Temple putting a statue of Zeus there instead.
The Jews launched a rebellion and they were successful in driving the Syrians out of Jerusalem. They cleansed and rebuilt the Second Temple and placed a menorah inside it.
This candelabrum had eight branches that were meant to stay burning every night.
The Jews only had enough olive oil to keep it burning for one night but by some miracle, the menorah burned for eight nights leaving the Jews enough time to seek out a fresh supply.
The Jews thought this was a miracle and celebrated the event. What's more, they continued the tradition with an eight-day celebration that takes place every year.
HANUKKAH TODAY
The miracle of Hanukkah is celebrated to this day. During the holiday, people give each other gifts and light the candles of the menorah. They eat fried food like sufganiyot (similar to jelly donuts) and latkes (potato pancakes).
These fried foods are significant for the oil that lasted seven days longer than predicted.
Children celebrate Hanukkah by playing the dreidel game. The dreidel is a four-sided spinning top with Hebrew letters on each side. It is played in honor of the time when Antiochus forbade Jewish people from worshipping.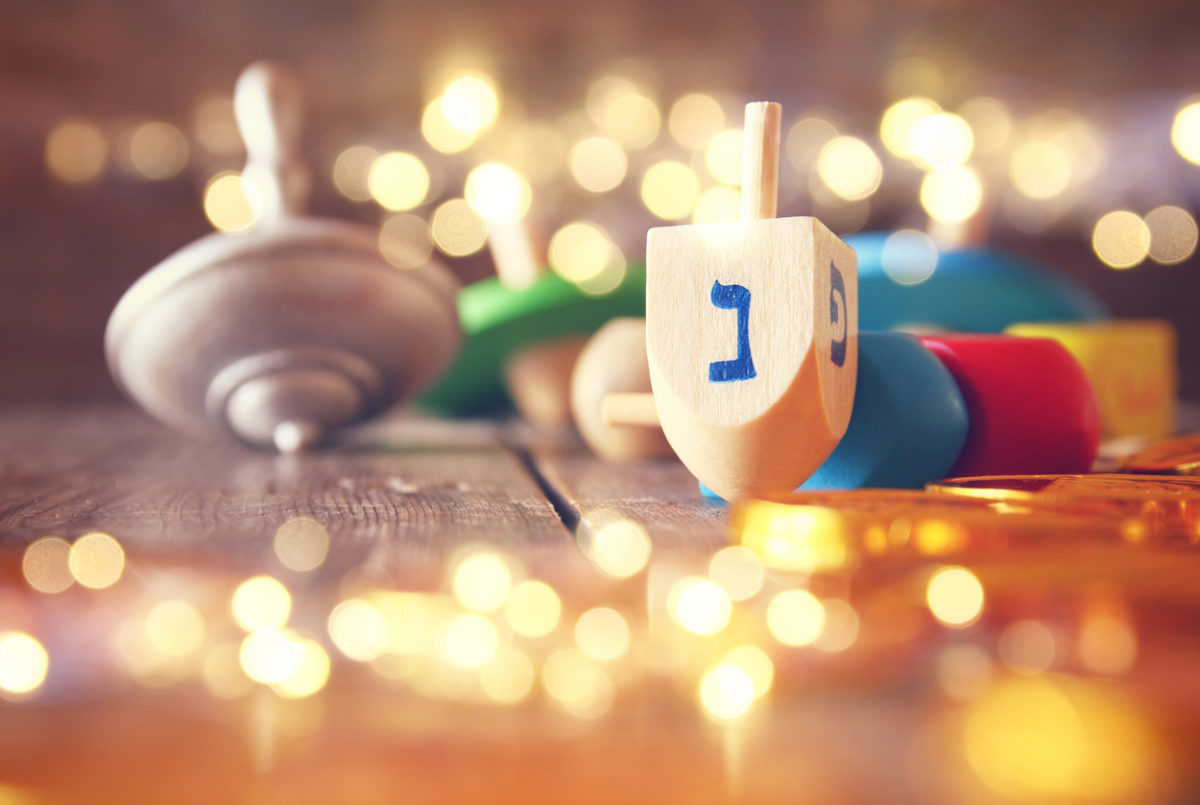 They would pretend to play the dreidel game to hide the fact that they were really practicing their religion.
People also celebrate by lighting the menorah. Every night, the center candle is lit in addition to the candles on the branches starting from the furthest right candle.
On the first night, one additional candle is lit, on the second night, two additional candles are lit, and so on. Blessings are said during the lighting ceremony.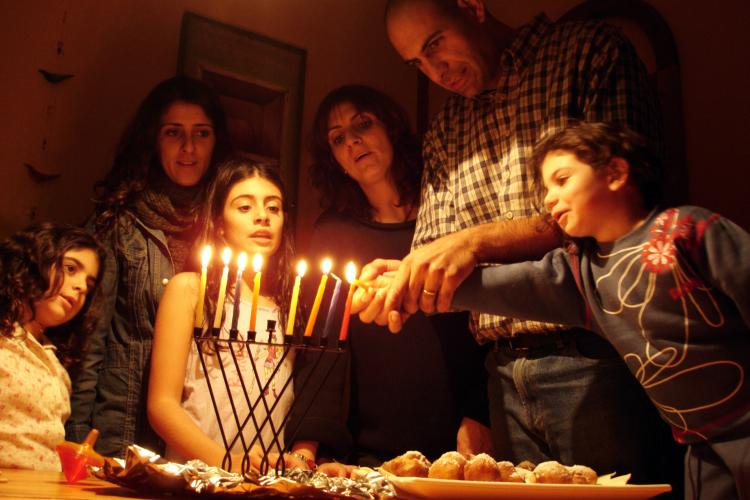 Small gifts are also given each night of Hanukkah. These typically include money (or Hanukkah gelt), nuts and raisins. 
HOW TO PREPARE FOR HANUKKAH
This year, in order to get ready for Hanukkah, you are probably already thinking about what you will serve guests that may be visiting.
You will be making arrangements for travel and events and, of course, you are probably already working on your gift list.
If you are dedicated to fashion, it's likely you are also thinking about what you are going to wear. Our FiercePulse women's Hanukkah leggings are the perfect holiday staple.
Our Hanukkah leggings can be worn to Hanukkah celebrations, during the days leading up to Hanukkah, and with eight days of Hanukkah, you can wear a pair each day! Here are some fashion ideas. 
#1. HANUKKAH SYMBOL LEGGINGS
These vibrant Hanukkah symbol leggings are the perfect thing to wear to a Hanukkah celebration.
We love the colors in them and recommend you play them up with an elegant purple sweater and vintage inspired purple velvet boots. Add a pink purse to complement the look and you are ready to party! 
#2. HAPPY HANUKKAH LEGGINGS
The Evil Eye has long been a part of Jewish religion and wearing this symbol is a great way to ward off evil while looking super fashionable.
That, along with the fact that these blue colors go together so well, make this sports bra and leggings outfit the perfect thing to wear for a Hanukkah time work out.
Bring in a pair of royal blue sneakers and a sky blue gym bag and you are ready to burn off a thousand latkes!
#3. HANUKKAH JOY LEGGINGS
If it's around Hanukkah time, and you're kicking it with some friends, these Hanukkah Joy leggings can be the perfect thing to wear.
The bright turquoise color can be picked up in a vibrant t-shirt. Then play up the orange and neutral tones by adding a bright orange purse and brown buckled ankle boots. 
A good general rule is to avoid overpowering these super soft Hanukkah leggings with a lot of loud prints. Because the leggings each have their own prints, they will look best with solid pieces that bring out their terrific colors. 
MORE REASONS TO LOVE OUR HANUKKAH HIGH PERFORMANCE LEGGINGS
In addition to being the perfect thing to wear during the Hanukkah season, our leggings also provide exceptional quality that makes them a favorite with our customers. 
They are made of a soft poly-spandex blend with a four-way stretch that moves with you no matter what position you get your body into. The waistband lies flat so it will never dig in to irritate the skin. 
The super soft Hanukkah leggings are handmade ensuring high attention to detail that comes through in their superior quality and great looks. They are squat proof so they will not become see-through when you bend.
They also have a UPF of 40+ that's guaranteed to protect you from the sun's harmful rays. 
This Hanukkah is going to be a lot of fun, but our women's Hanukkah leggings will take it to the next level with a festive look that will get everyone in a great mood. What will you be wearing to your celebrations?