It's getting darker earlier and there is a slight chill in the air. There's no mistaking it. Halloween is coming soon.
There are so many reasons to love Halloween. It's an occasion for people to get together and celebrate.
It's a time when people can live out their fantasies by dressing up like their favorite characters. And let's not forget all that great Halloween candy!
This article will discuss Halloween and how to make this year's holiday more fun than ever.
HISTORY OF HALLOWEEN
Halloween can be traced back to the Celtic Festival of Samhain.
The Celts were a group of people who lived 2000 years ago in the area that is now Ireland, the U.K and France. They celebrated Samhain on Oct. 31.
They believed this day marked the end of summer and the beginning of a long, cold winter and the time when the worlds between the living and dead became blurred.
They believed that the spirits who returned to earth on this day caused trouble and damaged crops. They also believed that the presence of these spirits made it easier for Celtic priests to predict the future.
To celebrate, they lit fires, dressed in costumes and tried to tell each other's fortunes.
HALLOWEEN TODAY
Today, the spooky spirit of Samhain lives on in the way we decorate and the costumes we wear.
Giving out candy came later. In the 1950's and 1960's candy companies were looking to create a holiday to promote their products.
'Candy Day' was originally established on the second Saturday of October but it eventually moved to Halloween.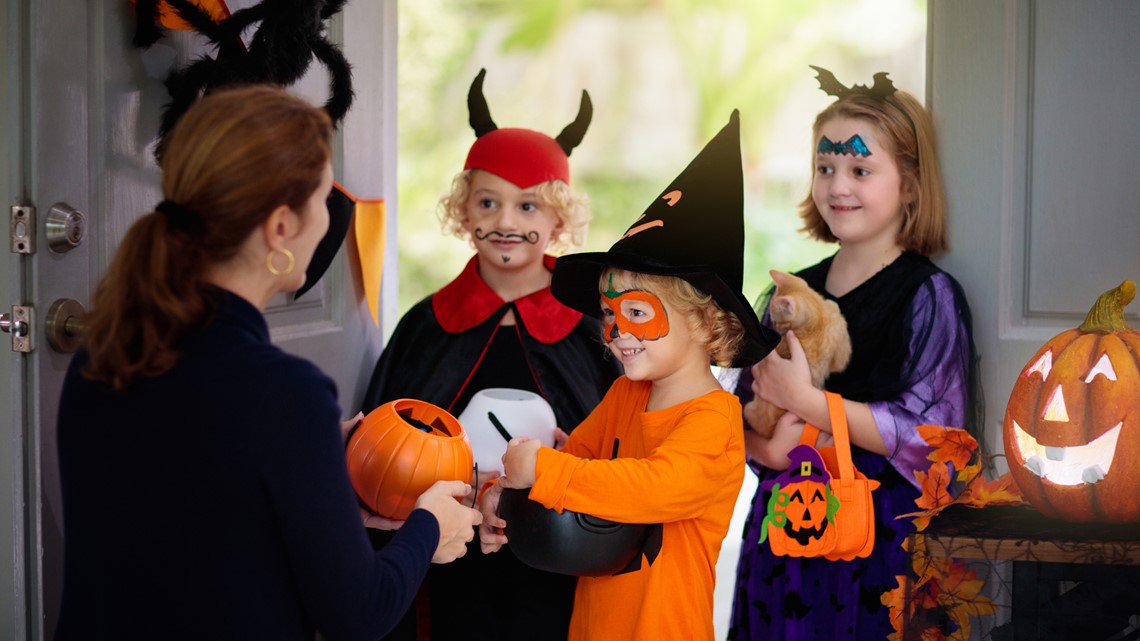 In addition to dressing up and trick or treating, people also gather with friends for parties where they bob for apples, have costume parties, tell ghost stories and more.
DRESSING UP FOR HALLOWEEN
Costumes play a major role in Halloween fun. As soon as summer starts, kids begin talking about what they're going to be for Halloween this year.
Store-bought costumes are an obvious way to go. But where's the fun in that? All you need to do is go online or take a trip to your favorite costume shop, lay your money down and that's it. There's really no creativity involved.
Not to mention that it's likely someone will be wearing the same costume you are wearing.
What's more, costumes are often cheaply made, overpriced, and once you are done wearing them, you will probably just end up throwing them away.
Making your own costume is much more fun and worthwhile. And if you are looking to make your own costume this year, our FIERCEPULSE Halloween leggings are the way to go.
WHY OUR LEGGINGS ARE GREAT FOR HALLOWEEN
Our Halloween leggings will make your Halloween holiday complete. You can wear them as part of an outfit or, if you don't want to put in a lot of effort, you can just wear them with a matching shirt and still look festive.
You can also wear them on the days leading up to Halloween to get everyone excited about the holiday.
You can wear them while running errands, at the gym or when you're kicking it at home with friends. Here are some looks you can try out. 
#1. HALLOWEEN NIGHT LEGGINGS
Our soft Halloween leggings can easily be worked into your costume. For instance, if you are wearing a short witch's dress, you can wear them instead of tights. Then just add a hat and witchy shoes and you are good to go. 
Featured above we have the Halloween Night Leggings. We love the peek-a-boo Jack-o-Lanterns on the knee! 
#2. HALLOWEEN PRINT LEGGINGS
Ladies Halloween leggings aren't only great for Halloween. They are also perfect for the days leading up to Halloween.
Here is a terrific example of what you can wear when you're running out to the store to grab some Halloween essentials. Note: This can also double as a Halloween costume for those who would rather not go all out!)
Featured above are our Halloween Print leggings. Nice kitty! 
#3. SPOOKY PUMPKIN LEGGINGS & SPORTS BRA
Our fabulous Halloween leggings are also great for the gym. Wear them with one of our cool Halloween sports bras to complete the look. Add a funky pair of athletic sneakers and a gym bag and you're ready for your workout. 
The Spooky Pumpkin Leggings pictured above are sure to give anyone a fright! 
When creating your own looks with our Halloween leggings, it is best to go with a solid color on the top and for the shoes.
Since the leggings already have a vibrant print, it's best to tone it down with a solid that will complement the colors in the leggings. Go from there to create the looks that are right for you. 
OTHER REASONS TO LOVE OUR HALLOWEEN LEGGINGS
Other than being adorable and perfect for Halloween, our ladies Halloween leggings have a terrific quality that you can count on. 
They are made of a supersoft spandex-polyester blend that stretches no matter which way you move. They have a comfortable waistband that lies flat against your body and will never dig in.
They are squat proof so you never have to risk an embarrassing moment when you bend down.
Additionally, the material offers sweat-wicking properties that will keep you dry throughout your workout. It is also 40+ UPF to protect you from the sun's harmful rays. 
Best of all the leggings are 100% handmade to ensure superb quality and superior attention to detail. 
Halloween is one of the most fun holidays of the year. Our Halloween leggings take it to the next level with terrific designs and the ultimate in quality and comfort. How will you be wearing them to make your Halloween more fun?