What is it about leggings? They're this mystical item of clothing that many people just can't seem to get their head around. Are they pants, or more like tights? Can they be both formal and gym wear? Can anyone wear them? We get it, they can be a little confusing.
So, let's put it all out in the open and get some of those commonly asked questions you have answered. It's time to understand our beloved leggings just a little bit more…
Is it OK to wear leggings every day?
Yes, need we say more? Whoever suggested it isn't, clearly doesn't know what they're talking about. Unless you're asking if you can wear the same pair of leggings every day, then that's a different story. We advise against that, after all, they do need a good wash from time to time.
Leggings come in all different patterns and colors so you can dress them up and down and have some fun with them.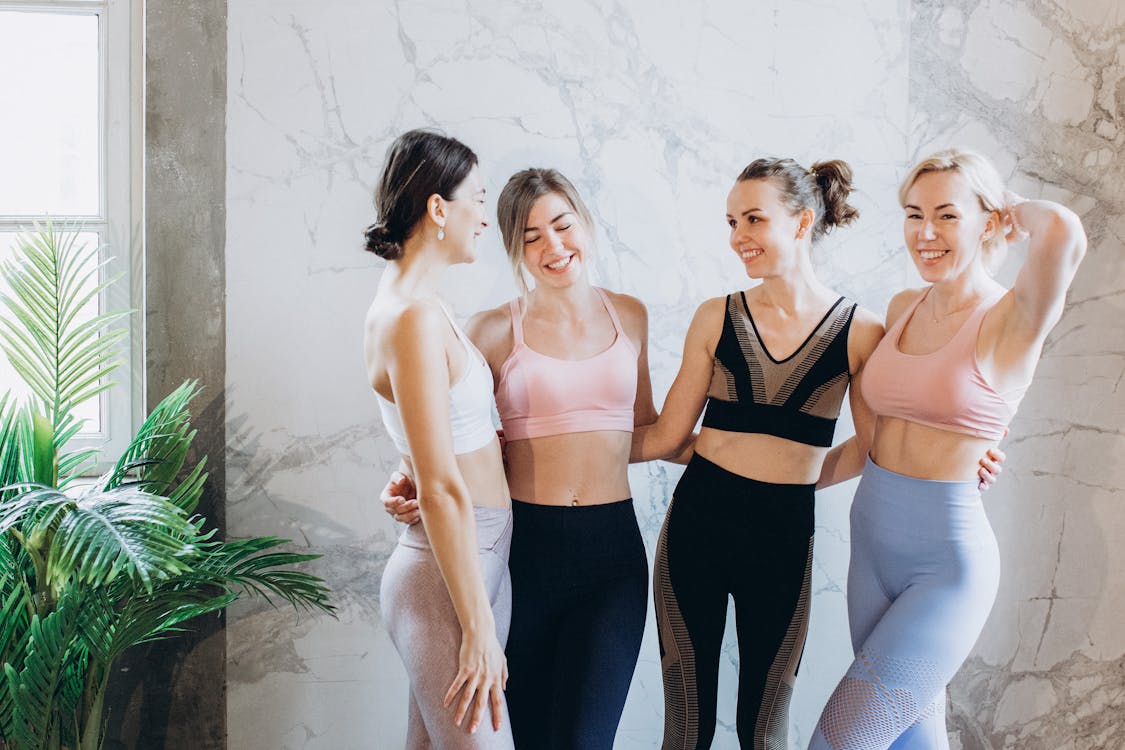 One pair of leggings can be worn as a gym outfit, then an oversized shirt can be popped over it for a cute day-time look, and finally the shirt can be swapped out for a sexy top with a pair of heels, ready to rock the night life. Leggings suit almost every occasion – it's all about how you accessorize.
At what age should you not wear leggings?
Hmmm, never? But seriously, there's no age you need to stop wearing leggings. You simply need to start wearing them differently. Throw out that skimpy top and drape over a warm knit instead. You don't suddenly grow too old for leggings. You simply adapt and change your style.
Are leggings still in style 2021?
Of course they are! Let's be honest, leggings will always hold a place in the fashion world. Why? Because they are constantly being updated in line with fashion trends. Right now, leggings are most definitely back on the agenda.
With more and more people working from home, it's easy to see why. You can be both comfortable and trendy at the same time. People simply can't get enough of the good old leggings.
How can I look stylish in leggings at 70? 
Age is just a number. Don't let it hold you back! We've watched the entire world change dramatically in the past year, and with it, so has the way we dress. It's so easy to throw on a pair of leggings and look and feel great when you're 70 years young.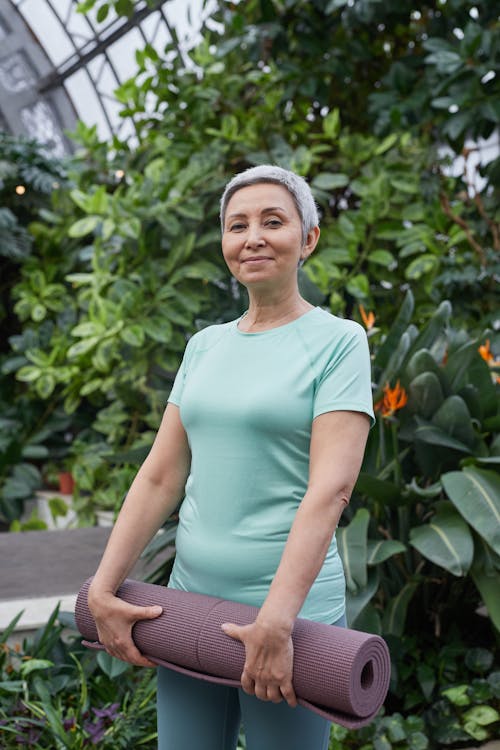 Leggings look great worn with tunic sweaters, longline blazers, tunic-length shirts and thigh-length blouses. Pair one of these options with boots or some ballet flats for a more classic look.
What should you not wear with leggings? 
You'd think it's pretty hard to go wrong with leggings. We're telling you now – it's not. There are definitely items you need to avoid when wearing them. Firstly, steer clear of the bodysuits if you're worried about showing lines, it's just asking for trouble.
You should also avoid that slim-fit blazer. It's one of those hard and fast rules of fashion – don't pair something tight (leggings) with something tight. You end up looking like you're trying (and failing) to squeeze into a catsuit. Always go for the over-sized option when it comes to pairing with leggings.
What shoes look good with leggings?
Honestly, you can get away with any style shoes you like with leggings. But some choices are definitely better than others. Ankle boots and knee-high boots are the perfect way to complete an outfit in winter.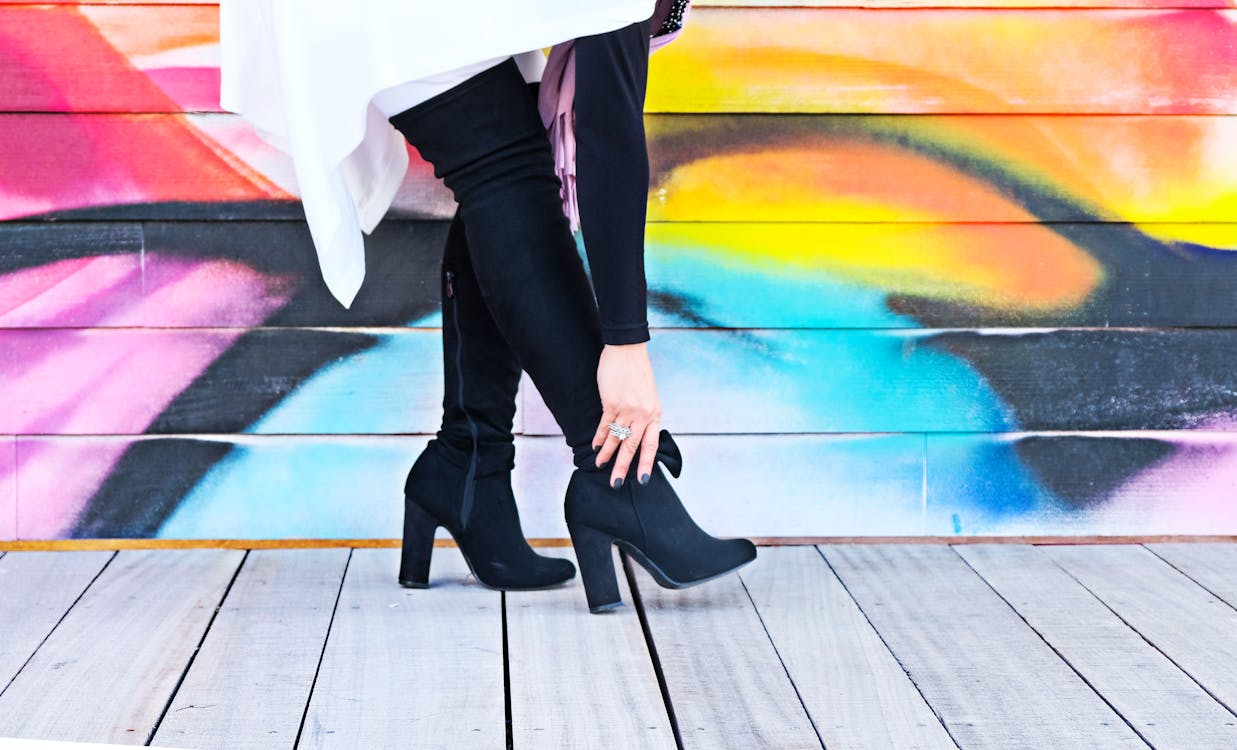 Ballet flats will see you through the warmer months. Flip flops can be worn, but in all truth, they don't do much for us. There are better choices out there!
Should leggings be tight or loose?
Leggings should be comfortable! If they're not comfortable, then you've chosen the wrong size. If your leggings are riding up and causing you discomfit, then it's worth going up a size.
On the other hand, if you're making it through the day by hiking up your leggings 10 million times, then it's time to go down a size.
Is it OK to sleep in leggings? 
Sure, though pajamas are probably a better option. Look, we get it, we love our leggings too. But you should give them a rest at night and pop on something a little more free flowing. Perhaps a nightie or an oversized tee?
Don't worry, you can pop your leggings back on first thing in the morning, so you won't have to live without them for long. Of course, if you're desperate to wear them to bed then go for it. We won't stop you!
Can you wear leggings as pants?
You bet! They make awesome pants. It's all about how you wear them. Make sure you're wearing good quality leggings that aren't see-through, and try and opt for a long shirt or tunic to wear over the top.
If you want our best advice? Treat leggings like skinny jeans – most of the same rules apply.
Can you wear leggings to work?
Yes, yes and yes again. A black pair of leggings is your safest bet, paired with a nice, oversized formal top, with an oversized blazer over the top. Complete the look with some ankle boots and you're set for the day.
You can be both stylish and comfortable all day long – that's a win for us.
There you have it. Hopefully you feel like you know a little more about leggings now and have uncovered some of the mysteries they possess. We'll leave you with this: you really can't go too wrong with leggings. So find yourself a pair you love and flaunt it!