Do you feel it in the air? The temperatures are starting to rise, the first buds of spring are starting to show through and Easter will be here before you know it.
Easter is a fun holiday, but it has a deeper meaning for many people. This article will talk about the meaning of Easter and what you can do to celebrate in the best way possible.
HISTORY OF EASTER
The date Easter falls on changes from year to year but it always falls on the first Sunday after the first full moon following the spring equinox. In this way, it is a celebration of new life and rebirth.
Therefore, it makes sense that Christians associate it with the time Jesus will come back to earth to be resurrected.
The naming of Easter may go back to the times of a pre-Christian goddess in England named Eostre who was celebrated at the beginning of spring.
The name of the celebration was originally called Eosturemonath but has since been adapted to Easter.
Easter was originally celebrated with heavy drinking and partying, but over the years, it became more of a family holiday with a focus on children.
Before the 17th century, children were rarely the focus of attention. When the 17th century came, things changed and holidays like Easter became much more 'child-centric'.
As a result, family-friendly games and activities were incorporated into celebrations.
The painting of Easter eggs had been a part of celebrating Easter since medieval times as it was considered a sign of rebirth.
Easter European legends also describe eggs turning red in association with Christ's death and resurrection.
However, it wasn't until the 17th century that a German tradition of an 'Easter hare' bringing eggs to children began circulating.
Hares are often related to rebirth and fertility so it makes sense that they would be the harbingers on these symbolic items.
When Germans settled in Pennsylvania, they brought their Easter traditions with them and they are now widely spread around the world.
HOW TO CELEBRATE EASTER
Easter is a holiday that is celebrated in a big way. Here are some customs and traditions people engage in to keep the spirit going.
Go to Church
Those that see Easter as a religious occasion will want to go to church to pay tribute to Christ. It is traditional to take part in an Easter vigil which is held at Christian churches between sunset on Holy Saturday and sunrise on Easter Sunday.
It is the first celebration of the resurrection of Jesus and people are often baptized or receive communion during the service.
However, if you don't want to stay up late or wake up early, there are plenty of services you can attend on Easter Sunday morning.
Dress Up
To honor the celebration of spring and the rebirth of Christ, many people dress up in their Sunday best wearing brightly colored dresses and suits. Women are known to place elaborate Easter bonnets on their heads.
We'll be talking more about outfits that are Easter appropriate including ones you can create with FIERCEPULSE women's Easter leggings later in the article.
Dye Easter Eggs
Decorating Easter eggs is a holiday activity that makes for great family fun. Although the dying process can be quite elaborate, it doesn't have to be.
You can just buy a kit at the supermarket along with a carton of eggs to make interesting Easter looks. Be sure to take pictures before you eat them all up!
Easter Egg Hunt
After your eggs are dyed and decorated, head out to the backyard for an Easter egg hunt.
Adults can simply hide eggs around the backyard area and have children find them, or you can make your hunt more interesting by providing hints and doing an authentic scavenger hunt. Whoever finds the most eggs gets a sweet treat!
Easter Dinner
After running around the yard looking for eggs, you will all be ready for a terrific Easter meal.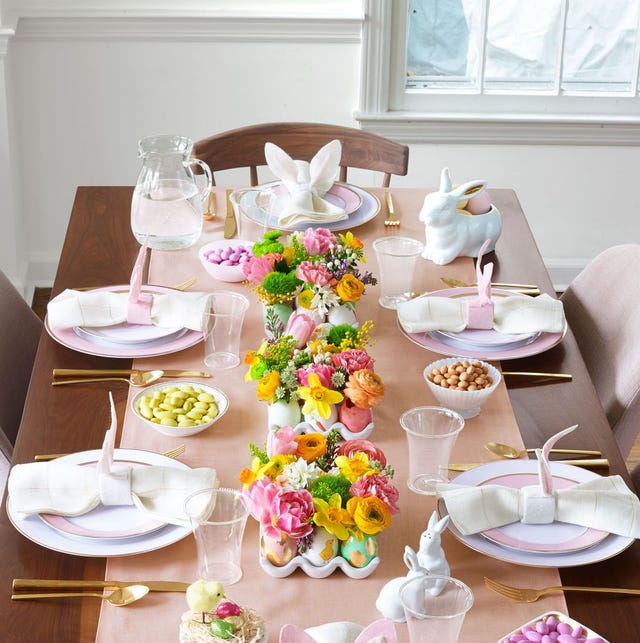 Dress up the table with Easter decorations and serve traditional food like ham and deviled eggs. You can also serve holiday-themed desserts that are sure to put a smile on children's faces.
Donate to a Worthy Cause
As with all holidays, Easter is a good time to think of those who are less fortunate. This time of year is a great time to make a donation to your favorite charity. 
DRESSING FOR EASTER
You can make your event even more festive by dressing for the occasion. While some women go all out wearing a fancy dress, if you're running around with kids, you'll want a more casual look.
FIERCEPULSE Easter printed leggings are the perfect thing.
Here are some women's Easter leggings outfits that will be great for holiday fun. 
#1. EGG BUT* EASTER LEGGINGS
These Egg But* Easter Leggings are so much fun. You will want to wear a shorter top to show off the design on the back. We went with an all-pink theme to bring out the pastel colors on the leggings.
A crop sweater, ugg boots and a short fuzzy jacket are just what you need to bring the spirit. 
#2. BUNNY BUT* EASTER LEGGINGS (PINK)
These Bunny But* Easter Leggings are another adorable style. Again, you will want to go short with the top to make sure everyone can see your bunny.
Add all-white accessories like these cool sneakers and this cute bag to pay tribute to Peter Rabbit himself. You are sure to be the belle of the ball! 
#3. WHITE EASTER BUNNIES LEGGINGS
The peplum top and elegant ankle boots add sophistication that counters the cuteness of these White Easter Bunnies Leggings to make for an outfit that can go from church to backyard fun.
Add a pair of stylish sunglasses and you will create an Easter style that is sure to impress. 
#4. COLORFUL EASTER EGGS LEGGINGS
Planning on getting a workout on Easter or right around Easter time? FIERCEPULSE has you covered with these terrific Colorful Easter Eggs Leggings and matching sports bra.
We kept the fun going with bright red sneakers and a bright red hoodie. Wear the hoodie to keep your muscles warm and strip it off when you start breaking a sweat. 
#5. PEEKING EASTER BUNNY LEGGINGS
Look who's peeking out from your legging design this Easter! These Peeking Easter Bunny Leggings feature another irresistibly cute FIERCEPULSE design.
We had fun with the pinks and blues bringing them out in the various items added to the outfit. A blue button-front shirt, pink purse and multi-colored sneakers make the look come together perfectly. 
Easter is coming up sooner than you think. Make sure you are ready with fun activities, terrific food and adorable Easter bunny leggings that will really bring the spirit. What are your Easter plans this year?