Leggings are becoming one of the most popular wardrobe items a person can own. They are comfortable and versatile enough to wear when lounging at home, working out at the gym, or kicking it with friends.
Certain types of leggings can even be worn to complete formal or professional looks.
Once leggings were available in just a few solid colors, but now that they are getting more popular, they are coming out in a wide variety of colors and prints.
Wearing fun prints and bright colors can be great for brightening up a dull day, but if you are not used to wearing prints, you may wonder how to style them.
FIERCEPULSE makes a wide variety of solid colors and prints that you can mix and match to make styling easy. Here are a few helpful hints and ideas to ensure you always look your best.
HOW TO STYLE BASICS WITH PRINTS
You may be looking to make a basic outfit more exciting or you may be looking to match a print without going overboard. Either way, here are some helpful hints that will help you achieve your goal.
MATCH PRINTS WITH SOLIDS
If you put too many prints together, your outfit may be too loud. Put solids together and you may just look boring. The ultimate solution is to match a solid with a print. This way you will get a perfect balance and the best of both worlds. 
THINK ABOUT THE COLORS
As with any outfit, you will want to make sure the colors you are wearing match. 
Take a look at the pattern in the print you are wearing. What colors are in the print? Complete the outfit with pieces that feature a basic solid that matches one of those colors.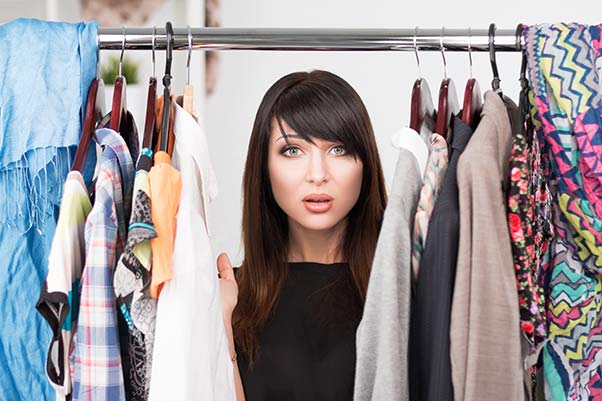 So, for instance, if you are wearing workout leggings with a print that's blue, brown and green, you can match it with a solid top that features any of these colors.
But don't feel like you always have to be matchy-matchy. Sometimes taking a risk can pay off big time. For instance, a bright red top will look great with black and white print leggings. Or think of adding a purple tone to a gray mix.
ACCESSORIZE ACCORDINGLY
When adding accessories like shoes, a purse, hair ties and jewelry, think of bringing out the colors you are wearing to make your look even more exciting.
So, for instance, if you are wearing the blue, brown and green leggings we spoke about earlier and choose to match them with a blue shirt, wear a green pair of shoes and a brown bag to create a high fashion look.
If you are wearing a black and white print and add interest with a red shirt, you can throw on some black and white accessories to let the red pop or wear other vibrant colors to make your colorful leggings outfit even more exciting.
FIERCEPULSE OUTFITS THAT MATCH PRINTS WITH BASICS
Now let's take a look at some FIERCEPULSE leggings and top combinations that are great for matching prints with basics.
OPTICAL ILLUSION LEGGINGS + PEACHY RED RACERBACK TANK
These Optical Illusion Leggings have a psychedelic pattern and a basic black and white color. Have some fun with the look by adding a FIERCEPULSE Peachy Red Racerback Tank.
Bring the color down with matching athletic sneakers. Then, to keep the outfit from getting too out of hand, complement the black in the pants with a black gym back. This is a great look for the gym. 
ROYAL BLUE LEGGINGS + BLUE EYE SPORTS BRA
These colorful leggings for women feature a royal blue color that makes the perfect complement for the FIERCEPULSE Blue Eye Sports Bra.
With such a great hue, you'll want to keep it going with some royal blue sneakers and a fun pair of sunglasses.
This is a great look for the gym but you can add an open button front or zip-up sweatshirt for a style that's appropriate anywhere you go. 
PASTEL TIE DYE LEGGINGS + AZURE BLUE RACERBACK TANK
These women's colorful leggings make a great spring look. Pair them with a FIERCEPULSE Azure Blue Racerback Tank to bring out the blue color and add a bit of androgyny with powder blue work boots.
Balance out the pink with a pink purse and you are ready for lunch out with the girls. 
BLACK & WHITE COMIC BOOK LEGGINGS + DEEP FOREST GREEN RACERBACK TANK
Why pair black and white with more black and white? Especially when you're starting with a fun print like these Comic Book Leggings! Put an unusual spin on it by adding this Deep Forest Green Racerback Tank.
Then keep the jewel tones going with a pair of dark purple sneakers and a dark purple purse. This look can easily transition from the gym to running errands to coffee out with friends. 
CHARCOAL BLACK LEGGINGS + MEDITATION ZEN SPORTS BRA
No woman's wardrobe is complete without a pair of black leggings. This Meditation Zen Sports Bra will make for fashion nirvana. Add some excitement with a red sweatshirt and red sneakers.
The sweatshirt will cover you up when you're running errands around town. Strip it off when you are ready for your workout. 
BLUE EYE LEGGINGS + ROYAL BLUE RACERBACK TANK 
For this one, we took our Royal Blue Leggings and Blue Eye Sports Bra and put the outfit in reverse. But this time, instead of going with the all-blue theme, we added interest with metallic silver elements.
The look makes casual occasions more fun. And once you have all the Royal Blue and Blue Eye FIERCEPULSE pieces, you can mix and match as you choose. 
DENIM PATCH LEGGINGS + CHARCOAL BLACK SPORTS BRA
Ripped jeans and a black crop top makes a classic rocker look. FIERCEPULSE's Denim Patch Leggings and Charcoal Black Sports Bra is a great take-off on the style.
Add a badass pair of combat boots and you will be the height of festival fashion. And don't forget the sunglasses!
Now that you know the rules for pairing colorful leggings for women with basics and solid color leggings with fun prints, what outfits will you be wearing this season?